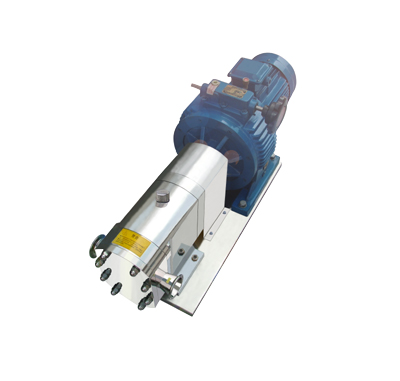 TR
Operating Principle
Technical Parameter
Installing Dimension
Documents Downloads
Technical Parameter
:
As the rotors rotate, the spaces between the lobes and the casing are successively filled with fluid, which is transported to the discharge nozzle with a fixed amount of displacement. The pumped fluid forms a continuous stream thanks to the tolerances between the lobes and the pump casing, thus ensuring an efficient pumping.
Materials
| | |
| --- | --- |
| Parts in contact with the product | AISI 316L or 304 |
| Gaskets | EPDM |
| Mechanical seal | graphite/Sic/EPDM SiC/C/EPDM |
| Internal surface finish | Ra °‹ 0.4 µm |
| External surface finish | bright polish |
Options
Mechanical seals: SiC/SiC or TuC/SiC.
Cooled mechanical seal, pressurised double mechanical seal, lip seal or O-ring seal.
Gaskets in EPDM or PTFE.
Heating chamber (Jacket).
Isolation can.
Vertical support.
Rectangular nozzle.
Various kinds of drives and protections (gearbox drive with optional frequency converter.
pulley/mechanical drive speed selector).
Trolley and/or control panel.
Connections: clamp, SMS, RJT, etc.
NO

Model

volume of rotor£®L£©

range of speed£®rpm£©

Flow

£®L/h£©

Type I,II power spply£®£®Kw£©

Type Ęůpower spply

£®Kw£©

suction and discharge£®mm£©

1

TR-I-05

0.028

200-500

330-840

0.55

0.37

25

2

TR-I-1

0.04

200-500

480-1200

0.55

0.37

25

3

TR-I-2

0.075

200-400

900-1800

0.75

0.55

32

4

TR-I-3

0.095

200-400

1140-2280

1.1

0.75

32

5

TR-I-4

0.118

200-400

1400-2800

1.5

1.1

38

6

TR-I-5

0.18

200-400

2000-4000

2.2

1.5

38

7

TR-I-6

0.28

200-400

3000-6000

3

2.2

50

8

TR-I-7

0.34

200-400

3600-7200

4

3

50

9

TR-I-8

0.424

200-400

4500-9000

5.5

4

50

10

TR-I-9

0.53

200-400

5700-11000

7.5

5.5

63.5

11

TR-I-10

0.7

200-400

7000-14000

7.5

5.5

63.5

12

TR-I-11

1.0

200-400

12000-24000

11

7.5

89

13

TR-I-12

1.6

200-400

19000-38000

11

11

89

14

TR-I-13

2.0

200-400

24000-48000

15

11

108
Infotime:2006/6/7 Hits:20657 [Print][Close]