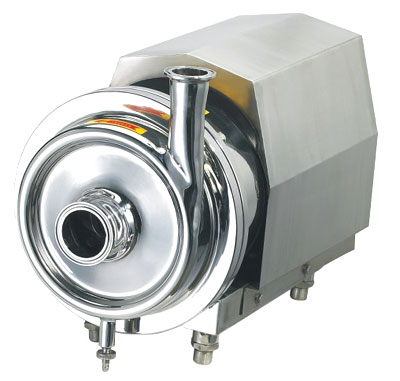 Model BOCLP hygienic magnetic pump
Operating Principle
Technical Parameter
Installing Dimension
Documents Downloads
1.Product Desciption
:
Over view
Boao constantly applies modern mew technology and new concept to improve production technology of magnetic pump. New generation of model BOCLP hygienic magnetic pump series are Boao people's pride. This product conforms to GMP standard and traditional quality standard, besides, it has more superior performance , higher efficiency and longer service life , users can get more benefits from it.
Application
Used for liquid delivery such as liquid ,soup ,alcohol, spirit, beer etc. Widely used in the fields as medicines ,cosmetics, chemicals and beverages etc.
Features:
1.Static dead sealing through welding isolative sleeve replace dynamic mechanical sealing, which can completely solve the leaking problem of mechanical sealing.
2.Simple structure, east to dismantle, easy to clean, no dead space.
Description of selection
Working temperature :-20-150℃
Working environment and medium :confirm whether explosion protection is the must .
Working conditions :hygienic magnetic pump belongs to high and low liquid level and horizontal delivery ,non self-priming pump type
Pump body material :selection between 316L and 304 according to medium .
2.Working principle
:
BOCLP health-magnetic centrifugal pump is mainly to the pharmaceutical, biological engineering and food industries for GMP modification design. The pump is excellent, rational structure, small size, reliable. Apply to the non-delivery of the solid particles and water cleansing liquid materials such as medical products and beverages, alcoholic. Health BOCLP type of centrifugal pump contact magnetic materials used in all parts 316L\304 materials. Coupling permanent magnet motor to drive the impeller principle to operate and work. Welding isolation sets static dynamic mechanical seal to replace dead seal, a mechanical seal can not be avoided completely solve the run, run. drop 擵 ills. Seal of silicone rubber, fluorine rubber impeller into semi-open, closed, no corners easily washed. with the "pharmaceutical quality control," the GMP requirements. Widely used in chemical and pharmaceutical industries, such as food oil transportation plating acid, alkali, oil, rare and precious liquid venom. Volatile liquids; particularly flammable, explosive, easy transportation of liquid leakage. Another is environmental protection, wide application of water treatment and other industries.
3.Technical parameters
:
4.Installation dimensions
:
| | | | | | | | | | | | | |
| --- | --- | --- | --- | --- | --- | --- | --- | --- | --- | --- | --- | --- |
| Model | power(KW) | L | L1 | L2 | L3 | H | H1 | H2 | M | M1 | Inlet | Outlet |
| BOCLP1-100 | 0.37 | 373 | 230 | 140 | 82 | 138 | 245 | 290 | 42 | 106 | φ25,DN20 | φ25,DN20 |
| BOCLP1-120 | 0.55 | 373 | 230 | 140 | 82 | 138 | 245 | 290 | 42 | 106 | φ25,DN20 | φ25,DN20 |
| BOCLP3-110 | 0.55 | 354 | 210 | 120 | 62 | 138 | 245 | 290 | 42 | 106 | φ38,DN32 | φ25,DN20 |
| BOCLP3-120 | 0.75 | 420 | 220 | 130 | 62 | 155 | 250 | 320 | 42 | 116 | φ38,DN32 | φ25,DN20 |
| BOCLP3-140 | 1.1 | 460 | 240 | 125 | 65 | 180 | 330 | 340 | 72 | 116 | φ38,DN32 | φ25,DN20 |
| BOCLP5-140 | 1.1 | 460 | 240 | 125 | 65 | 180 | 330 | 340 | 72 | 116 | φ50,DN50 | φ32,DN25 |
| BOCLP5-150 | 1.5 | 480 | 250 | 125 | 65 | 190 | 345 | 340 | 72 | 135 | φ50,DN50 | φ32,DN25 |
| BOCLP5-165 | 2.2 | 505 | 255 | 125 | 65 | 190 | 345 | 340 | 72 | 135 | φ50,DN50 | φ32,DN25 |
| BOCLP5-180 | 3.0 | 540 | 325 | 135 | 65 | 220 | 375 | 390 | 72 | 155 | φ50,DN50 | φ32,DN25 |
| BOCLP10-150 | 2.2 | 505 | 255 | 125 | 65 | 220 | 345 | 340 | 68 | 135 | φ50,DN50 | φ38,DN32 |
| BOCLP10-165 | 3.0 | 540 | 325 | 135 | 65 | 220 | 375 | 390 | 68 | 155 | φ50,DN50 | φ38,DN32 |
| BOCLP10-175 | 4.0 | 575 | 335 | 135 | 65 | 220 | 375 | 390 | 68 | 155 | φ50,DN50 | φ38,DN32 |
| BOCLP10-182 | 4.0 | 575 | 335 | 135 | 65 | 225 | 375 | 390 | 68 | 155 | φ50,DN50 | φ38,DN32 |
| BOCLP20-160 | 4.0 | 575 | 335 | 135 | 65 | 225 | 375 | 390 | 68 | 155 | φ50,DN50 | φ50,DN50 |
| BOCLP20-175 | 5.5 | 690 | 390 | 180 | 72 | 225 | 412 | 440 | 68 | 216 | φ50,DN50 | φ50,DN50 |
| BOCLP20-192 | 7.5 | 705 | 400 | 183 | 72 | 225 | 420 | 440 | 80 | 216 | φ50,DN50 | φ50,DN50 |
| BOCLP20-210 | 7.5 | 705 | 400 | 183 | 72 | 225 | 420 | 440 | 80 | 216 | φ50,DN50 | φ50,DN50 |
| BOCLP30-165 | 5.5 | 690 | 390 | 180 | 75 | 225 | 412 | 440 | 68 | 216 | φ63.5,DN65 | φ50,DN50 |
| BOCLP30-180 | 7.5 | 705 | 400 | 183 | 75 | 225 | 420 | 440 | 80 | 216 | φ63.5,DN65 | φ50,DN50 |
| BOCLP30-192 | 7.5 | 705 | 400 | 183 | 75 | 225 | 420 | 440 | 80 | 216 | φ63.5,DN65 | φ50,DN50 |
| BOCLP30-210 | 11 | 860 | 510 | 200 | 75 | 2690 | 458 | 520 | 80 | 254 | φ63.5,DN65 | φ50,DN50 |
| BOCLP50-165 | 7.5 | 715 | 400 | 195 | 82 | 225 | 430 | 440 | 75 | 216 | φ76,DN80 | φ63.5,DN65 |
| BOCLP50-180 | 11 | 860 | 510 | 212 | 82 | 260 | 468 | 520 | 85 | 254 | φ76,DN80 | φ63.5,DN65 |
| BOCLP50-192 | 11 | 870 | 510 | 222 | 82 | 260 | 468 | 520 | 85 | 254 | φ76,DN80 | φ63.5,DN65 |
| BOCLP50-210 | 15 | 910 | 560 | 212 | 82 | 260 | 468 | 520 | 85 | 254 | φ76,DN80 | φ63.5,DN65 |
Infotime:2006/6/2 Hits:16868 [Print][Close]