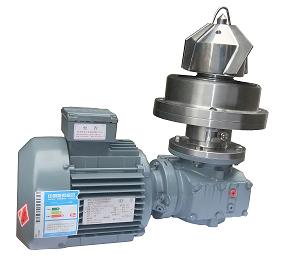 BCJ Series Hygienic Magnetic mixer( bottom entry)
Operating Principle
Technical Parameter
Installing Dimension
Documents Downloads
1.Product Desciption
:
ACJ and BCJ series is New design which is an improvement based on the CJ series.
BCJ: In the meantime of having welding flange as ACJ ,also make the impeller (inside magnet) can be disassembled from tank bottom together with separation sleeve .
The special design solve the inconvenience and trouble of disassemble from tank top position.
BCJ series is used for tanks which is full closed without any manhole , small tanks which has filled pipes on it's top cover , big tanks not easy for worker enter in ,this style can save the maintenance time and cost.
2.Working principle
:
Operating principle
1. The mixing impeller produce a vortex ,which sucking the soluble powder or liquid towards to the impeller
2. After reaching the impeller, the fluid flows in a radial direction rush to the tank wall by the centrifugal force of impeller.
3. After reaching the tank wall ,the fluid travels upwards and then circulation down to the suction end of impeller.
4. The overall bulk movement and the mixing action around the mixer ensure that a homogeneous ,mixing ,dissolving, dispersing, is achieved.

3.Technical parameters
:
Design and features
High blending capacity with low shear.
Magnetic coupling. No risk of leakage.
CIP/SIP design.
Bayonet coupling for easy assembly/disassembly of the drive unit.
Low power consumption.
Effective blending even of small volumes.
Very low particle generation.
Bottom mounted. Excellent for suspensions.
Practical when there is no much space at the top of the tank.
Frequency converter recommended.
Autoclavable agitating element (with previous disassembly of the drive unit).

Materials
Rotor AISI 316L or 304
Welding plate AISI 316L
Bearing SIC
Surface finish Ra< 0.5
Options
Bearing: SiC.
Parts in contact with the media:
special materials
Electropolished.
Speed sensor.
Control panel.
With warm speed reducer: Fixed speed range from 50-186rpm (according to different process)
Wish gear speed reducer: Fixed speed range from 150-600rpm (according to different process)
With 6-pole motor: Fixed speed at 960 rpm , which can be equipped with frequency converter, to control the speed.
4.Installation dimensions
:
Model

Capacity (L)

Matched power ( w)

≤120rpm

≤230rpm

≤350rpm

≤450rpm

≤620rpm

≤960rpm

ACJ5/67

10-200

60

60

90

120

180

250

BCJ5/67

ACJ5/78

10-300

60

90

120

180

250

370

ACJ10/108

50-800

90

120

180

250

370

550

BCJ10/108

ACJ10/114

100-1200

120

180

250

370

550

750

ACJ20/130

200-2500

180

250

370

550

750

1100

BCJ20/130

ACJ20/145

200-3000

250

370

550

750

1100

1500

ACJ30/145

300-4000

370

550

750

1100

1500

2200

BCJ30/145

ACJ30/165

500-5000

550

750

1100

1500

2200

 

ACJ40/175

500-8000

550

750

1100

1500

2200

3000(4000)

BCJ40/175

ACJ40/190

1000-3000

750

1100

1500

2200

3000

 

ACJ60/190

1500-15000

750

1100

1500

2200

3000

(4000)5500

BCJ60/190

ACJ60/220

1500-15000

1100

1500

2200

3000

 

 

ACJ80/215

2000-20000

1100

1500

2200

3000

4000

7500

BCJ80/215

ACJ80/245

3000-20000

1500

2200

3000

4000

 

 

ACJ120/240

4000-25000

1500

2200

3000

4000

5500

11000

BCJ120/240

ACJ120/275

5000-20000

2200

3000

4000

5500

 

 

ACJ160/280

6000-30000

2200

3000

4000

5500

7500

15000

BCJ160/280

ACJ160/320

6000-30000

3000

4000

5500

7500

 

 

ACJ200/342

10000-35000

3000

4000

5500

7500

11000

 

BCJ200/342

ACJ200/390

12000-35000

4000

5500

7500

11000

 

 

ACJ300/415

15000-40000

5500

7500

11000

15000

 

 

BCJ300/415

ACJ300/460

20000-50000

7500

11000

15000

18500

 

 
Infotime:2012/6/8 Hits:10679 [Print][Close]