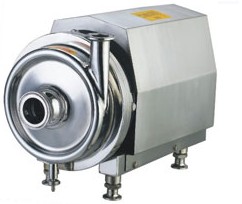 BOSP-L
Operating Principle
Technical Parameter
Installing Dimension
Documents Downloads
1.Product Desciption
:
BOSP-L Multistage centrifugal pump is a new design of BOAO company, a special design has impeller and shaft sleeve are forged integrally, and directly installed on the output shaft of the motor.
Advantage: high concentricity of shaft, strong rigidity, small vibration and prolonged service lifte of mechanical seal.
Disadvantage : only suitable for small power ,the maximum power rate is 2.2kw.
Applications
BOSP centrifugal pump is a sanitary centrifugal pump that meets the highest sanitary requirements for use in the food-processing and pharmaceutical,dairy,milk,bear industries.
Some of its uses include processes in the brewing, dairies and beverage industries in general, and with the appropriate options it can also be used in complex applications such as evaporators, concentrators, distillation towers, decanting of syrups, and purified-water loops in the pharmaceutical industry.
2.Working principle
:
Housed inside the casing, the impeller rotates in conjunction with the pump shaft .With this arrangement, the impeller blades convey energy to the fluid in the form of kinetic energy and pressure energy.
This pump is not reversible by simple reversal of the direction of rotation. The direction of rotation is clockwise when the pump is viewed from the rear side of the motor.
3.Technical parameters
:
Design and features
Different connections standard:DIN,SMS,JIS, ISO.
Open impeller manufactured with stainless steel investment casting technology.
Sanitary mechanical seal.
Pump certified according to 3A sanitary standards.
Very robust stainless steel cast lantern.
Pump support from AISI 304.
Materials
| | |
| --- | --- |
| Parts in contact with pumped media | AISI 316L or 304 |
| Other parts in stainless steel | AISI 304 |
| Gaskets (standard) | EPDM (FDA) |
| Mechanical seal (standard) | graphite/Sic/EPDM |
| Inside surface finishing | Ra < 0.4 um. |
| Outside surface finishing | Mirror polished |
Options
Mechanical seals in SiC/C, SiC/SiC or TgC/SiC.
Cooled or double mechanical seal.
Gaskets in FPM (Viton? and PTFE.
Connections: Clamp, SMS, RJT, etc.
Motors with additional protection.(movable, Explosion proof).
Trolley and/or Switchboard.
4.Installation dimensions
:
Infotime:2006/6/2 Hits:18560 [Print][Close]